YOUR ULTIMATE GUIDE TO NAVRATRI COLORS 2022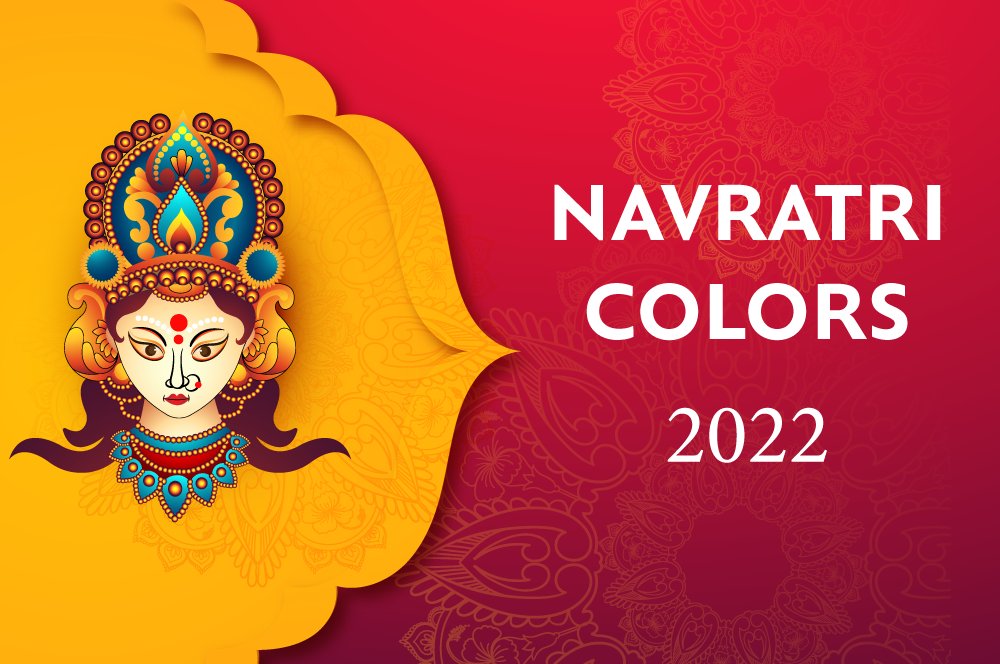 WHY IS NAVRATRI CELEBRATED ?
Navratri is the most beautifully lit and grooving musical festival of India. It is one Hindu festival where everyone awaits to dance off Navratri garbas together with friends and family. Navratri colors 2022 will be a defining aspect of this Navratri 2022. The shades of colors for this Navratri colors 2022 are a mix of vibrancy and calmness. The beauty of Navratri lies in the worship ceremonies every day and night throughout the 9 nights and 10 days festival of Navratri including Dussehra 2022. 
Navratri celebration for this Navratri 20222 will be grandest than ever and this year will be the first one since the pandemic has been on a huge decline. Navratri is more profoundly celebrated in the Indian states of Gujarat, Rajasthan and Madhya Pradesh. However, a form of Navratri 2022, Durga Puja 2022 is celebrated on the second of the Navratri schedule ending on the same day of Dussehra 2022. Navratri is a festival of Mother Goddess worship, Navratri fast, Navratri Garba and art and craft for Navratri. One major highlight lies in the construction of Pandals, huge sets, with art and craft for Navrtari that takes place into action days before the actual Navratri 2022 date, made to install Maa Durga statue to worship and make her more glorious with this Navratri 2022 colours and decoration. 
WHAT IS NAVRATRI? 
Navratri colors 2022 have significance as they are often considered to be closely associated with the 9 Devi names of Maa Durga. These Navratri 9 days Devi names can easily be recalled in Durga aarti that takes place throughout this Navratri 2022, just like Chaitra Navratri 2022, alongside Navratri fast and an activity where everyone tells Navratri story to each other. Nine names of Durga stand unique and so does the color associated with them as you can notice further ahead, a true meaning behind the name of a goddess amongst all of Goddess Durga names that we will further discuss in Navratri 9 Days Devi Names section. 
Navratri Garba is always a highlight of this Navratri 2022 festival as everyone dresses in stylish chaniya choli, mens kurta set and ghagra choli. They dance off several battles within Navratri Garba and it surely does become a gorgeous presentation of dancing and having fun. However, Navratri Garba with dressing based on Navratri Colors 2022 List happens only in this bigger Navratri called Sharada Navratri. There are a total of four Navratri that take place in temples and their premises but only one of them is celebrated at societal and personal levels. Chaitra Navratri 2022 is also a major version where it concludes with Ram Navami being the birth date of Lord Rama from the mythology Ramayana. 
However, this नवरात्रि is Sharara Navratri that concludes with Vijayadashami or Dussehra 2022 and it majorly focuses on Maa Durga and all other forms of Devi Maa. Durga puja 2022 is also a variant of this Navratri 2022 but it takes place from Day 6 to 10 and thus, Celebration and worshiping Maa Durga with Durga aarti along with the following of Navratri colors 2022, it becomes a very spiritual and energetic celebration of Mother Goddess worship and devotion.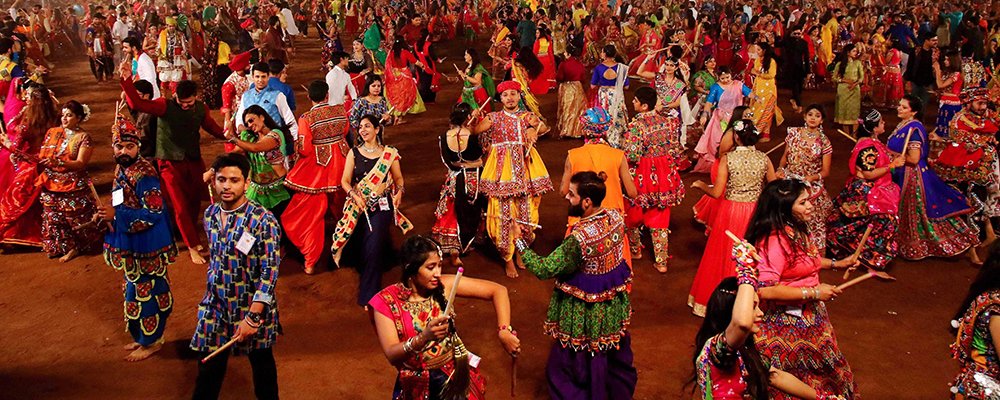 NAVRATRI FAST 
Navratri fast depends on every individual as there is no one such template to keep Navratri fast on Navratri 2022 as it is as flexible as how every year the Navratri colours keep changing their order like Navratri colors 2022 is such a unique palette of colors which you learn further ahead. Therefore, Navratri fast can take place for all nine days and nights or even for the first two and last two nights of the Navratri 2022 festival of Goddess Parvati or Maa Durga.  
During Navratri fast itself, people often greet each other with Navratri wishes which similar to Chaitra Navratri 2022 - चैत्र नवरात्रि 2022 शुभकामनाएं but here we only say नवरात्रि 2022 शुभकामनाएं or नवरात्रि की शुभकामनाएं as it is heartfelt in regional language. Regional way of celebrating Navratri 2022 is so strong that people's searches on the Google Trends are like नवरात्रि के 9 दिन के रंग, चैत्र नवरात्रि 2022 शुभकामनाएं, नवरात्रि पूजा, चैत्र नवरात्रि 2022 घटस्थापना मुहूर्त, नवरात्रि मंत्र & मां दुर्गा नवरात्रि and so on. 
This trends of regional search keywords, Navratri 2022 colours, Navrtari 2022 date, Navratri fast, Durga Puja 2022, Where to shop garba dress online in USA and even shopping on a Navratri Sale 2022 have been taken ahead to foreign countries as Indians are settling all over the world and thus, the culture of wishing नवरात्रि 2022 शुभकामनाएं has evolved to - Happy Navratri 2022 and its becoming more and more widely celebrated Hindu festival abroad alongside Dussehra 2022 and Diwali 2022. 
NAVRATRI COLORS 2022 LIST
Whether you are looking for Chaitra Navratri 2022 colours, Navratri Muhurat 2022, Ghat sthapna Muhurat Navratri 2022, Durga puja 2022, Durga aarti, Navratri fast, etc. Navratri is a festival of colors and thus, colors do play a significant role in terms of decoration, navratri dresses, devi names and every ritual that takes place in this colors of celebration known as Navratri 2022. Navratri clothes colors 2022 are the same as Navratri colors 2022, the Navratri clothes colors 2022 are a complete range of fashion apparel for men, women and kids. 
Shop Navratri clothes colors 2022 on iBhejo with authentic quality and imported brands. Shop Navratri dress from Western brands only here to add a modern touch to this traditional festive apparel. Navratri colors 2022 list is starting with Day 1 till Day follows - White, Red, Royal Blue, Yellow, Green, Gray, Orange, Peacock Green and Pink and let's learn more about it.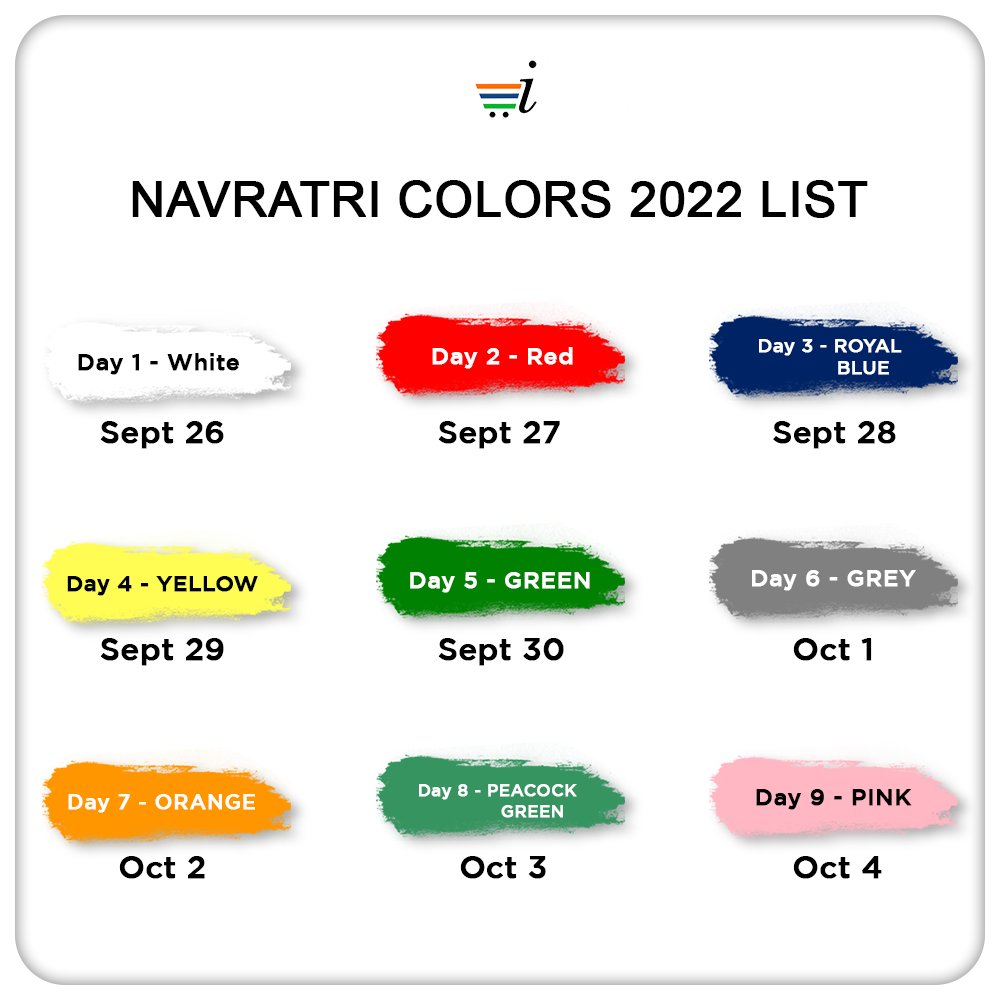 ●       White - Navratri Colors 2022 Day 1
As it is universally acknowledged that white symbolizes innocence and purity of anything. Thus, amongst all the Navratri colors 2022 list, these colors comes at first maybe for a reason that you get to start up front with a new beginning and thus, getting ready in all white clothes by shredding all the evil within you is the main goal. These is Navratri colors meaning in detail as you must about it before getting your Navratri clothes colors 2022. 
●       Red - Navratri Colors 2022 Day 2
Amongst all of the Navratri colors 2022, if any color that is most awaited by devotees to get their Navratri clothes colors 2022 based on it, it has to be the color Red, as this color is meant to be vibrant, vigorous and vitality. It symbolizes inner passion, love, and that force of attraction towards a power. This color red is seen more in the worshiping rituals of Durga Devi as she is dressed in a red bengali saree with red sindoor and then the sindoor khela is also full of red but that happens on Day 9. 
●       Royal Blue - Navratri Colors 2022 Day 3
The color that is meant to look royal and rich with full of elegant vibes has to be the color royal blue in the complete Navratri colors 2022 list. Navratri colors 2022 is about the colors of celebration and thus, to know exactly the Navratri 2022 date colors, iBhejo is providing a complete chart with Navratri colors 2022 list. The beauty of Navratri is all about the Navratri 9 colors 2022. Even the 9 Devi name list ahead will let you know how the colors are associated with each of the 9 Devi names. 
●       Yellow - Navratri Colors 2022 Day 4
What is a festival without any joy and celebratory spark, the color yellow on the day 4 in the Navratri colors 2022 list is the shiniest and vibrant color of all from the entirety of Navratri colors 2022. On this Day 4 you will also see yellow colored chaniya choli, ghagra choli and mens kurta set on people who have gathered to do Navratri garbas. The 9 days of Navratri colors are meant to be glorious and this yellow color from Navratri colors 2022 adds that extra flare needed to shine out of all the 9 day colours of Navratri 2022. 
●       Green - Navratri Colors 2022 Day 5
Navratri colors 2022 list will be incomplete with the color green as it represents the spirit of Nature and all its wilderness. It also relates very closely to the Goddess Maa Durga and thus, green has to be a significant color in the whole of Navrtari colors 2022 list. Green as a color is all about fertility, growth and the eternal spirit that one can feel all around nature. Indeed, it is simply a representation of the whole of Nature. 
●       Grey - Navratri Colors 2022 Day 6
Grey is the most neutral color in Navratri colors 2022 list as it is all about the balance in behavior, emotions and all other personality traits. Grey is beautifully explored in terms of Navratri clothes colors 2022 with the addition of sequined dress material or maybe a sequin chaniya choli, sequin ghagra choli or a solid color grey mens kurta set. Navratri colors 2022, as mentioned earlier, is a complete balance of all shades of colors of celebration. 
●       Orange - Navratri Colors 2022 Day 7
Another one from the colors of celebration that are closely associated with Maa Durga is the color Orange. Orange is all about the warmth that one feels when they are with their mother and thus Mother Goddess Parvati is linked with this shade of the Navratri colors 2022 as it fully represents her spirit of motherly warmth and positive energy. 
●       Peacock Green - Navratri Colors 2022 Day 8
As Navratri happens almost at the end of the Monsoon season every year, the peacock represents a lot in this Navratri celebration of colors. Peacock green color in this Navratri colors 2022 comes on Day 8 and it symbolizes freshness like how a peacock dances freely in the rain, 
●       Pink - Navratri Colors 2022 Day 9
Pink is the color of charming beauty and it surely makes you feel of the appearance of Maa Durga like how she becomes the only eternal beauty in this world. Pink color stands quite in the balance amongst all of Navratri colors 2022 list. This color along with red and orange is closely associated with all of the Navratri 9 days devi names. All of the 9 Devi name list is coming up further where all colors with Navratri 2022 date colors will be explained in our next section very briefly so let's continue the colors of celebration in the name of Maa Durga for this Navratri 2022.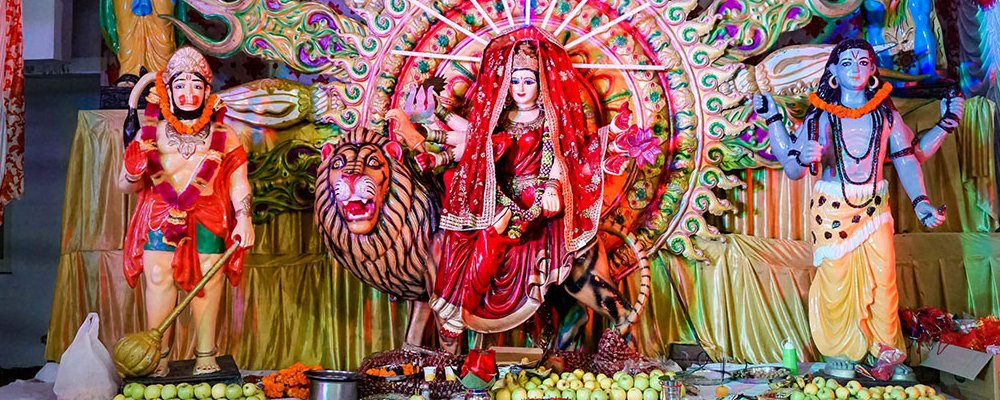 NAVRATRI 9 DAYS DEVI NAMES
Let's get straight to the list of 9 Devi name list as follows - Goddess Shailpurtri, Goddess Brahmacharini, Goddess Kushmanda, Goddess Skandmata, Goddess Katyayani, Goddess Kaalratri, Goddess Mahagauri, and Goddess Siddhidatri. All the 9 Devi name seems quite overwhelming but one should always remember that all of the Navratri 9 days Devi names all coming from the one goddess i.e. Maa Durga or Goddess Parvati who is the main goddess of all and all her forms take many shapes and appearance as per need arrives. 
Navratri colors 2022 list is always incomplete without mentioning Navratri 9 Days Devi names as these 9 forms of goddess Maa Durga are associated with these shades of colors of celebration and thus, the beauty of Maa Durga and her 9 Devi names are adorned with the Navratri clothes colors 2022 sarees, dupatta and more. Starting with Goddess Shailputri which is associated with the color white and then the red comes along with Goddess Brahmacharini. 
Royal blue and yellow goes on to be the colors chosen for Goddess Chandraghanta and Goddess Kushmanda with their gorgeous representation of womanhood. The beauty of green and gray with such a contradiction is perfectly adorned over Goddess Skandamata and Goddess Katyayani. Lastly, Goddess Kaalratri, Goddess Mahagauri and Goddess Siddhidatri are all associated with colors orange, peacock green and pink. 
FAQs
What are Navratri 2022 Date Colors?
Navratri 2022 Date Colors are as follows starting with September 26 - Color White, September 27 - Color Red, September 28 - Color Royal Blue, September 29 - Color Yellow, September 30 - Color Green, October 1 - Color Grey, October 2 - Color Orange, October 3 - Color Peacock Green and October 4 - Color Pink. 
What are Navratri 9 Days Devi Names ?
Navratri 9 days devi names are all form of Maa Durga and they are as follows - 
Goddess Shailputri, Goddess Brahmacharini, Goddess Chandraghanta, Goddess Kushmanda, Goddess Skandmata, Goddess Katyayani, Goddess Kaalratri, Goddess Mahagauri, and Goddess Siddhidatri. 
When is Navratri 2022?
Navratri 2022 start date is on September 26 going on till October with Navratri 2022 end date on October 4. Dussehra 2022 falls on October 5. 
Ibhejo Lifestyle Products | Arts & Crafts | Health Supplements