India is celebrating 75th Independence Day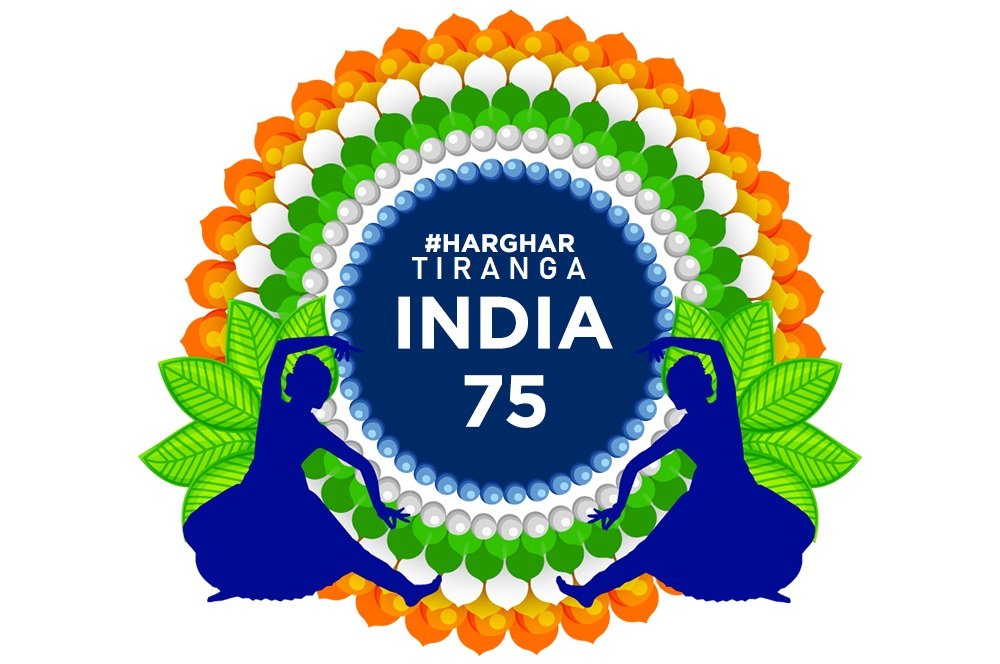 India is a paradise for the ones looking for spirituality and in search of ultimate salvation in their lifetime. On August 15, India celebrates its Independence day and the world knows how much struggle she has faced for centuries against the colonial rule of the British Empire. The history of Independence day of India is ruthless and sad as she was divided into two nations on that night which will be remembered for aeons in the future. Today, although everyone is chanting Har Ghar Tiranga in honour of celebrating 75th independence day. Everyone will remember the bloodshot and war that preceded Indian independence day.
The celebration of 75th Independence Day on 15 August 2022 will be one of the biggest celebrations for India as it is a great milestone for the entire nation as the Indian revolution for freedom from great people who fought for our country. Indian flag colors meaning is all about the resistance and bravery against colonialism in saffron color, purity and honesty in the white and being truthful to your roots is embedded in the green. Lastly, the ashoka chakra in blue is about the evergoing wheel of dharma of your life.
Celebrating this 75th Independence day will be a wholesome experience on this 15 August 2022 as inspirational independence day quotes will float across the cities and villages remembering the Indian revolution and honouring it through India celebrations with speech on independence day as well as several programmes will take place as a part of independence day celebration in schools.
INDIA INDEPENDENCE DAY - A Story about the midnight of 15 August 1947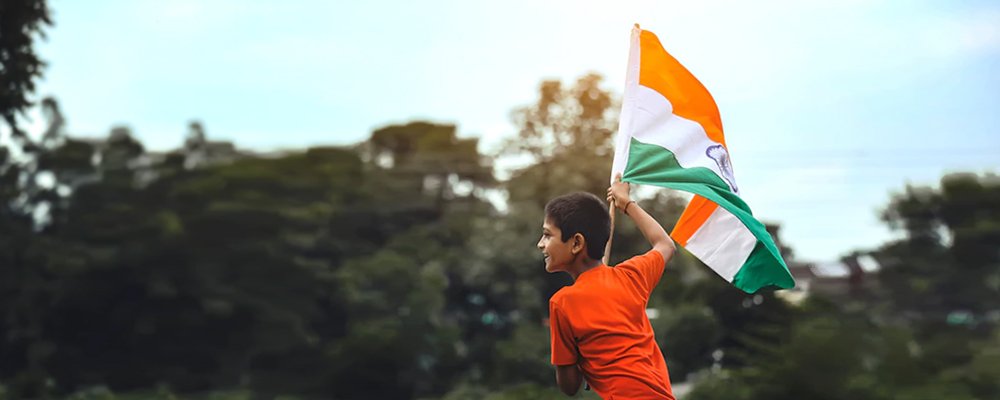 India was born out of the ashes of deadly colonialism imposed by then the largest empire in the world - the British Empire. Starting with small business trades, their rule quickly expanded to every corner of India and one fine day, they ruled the whole of Indian subcontinent from Balochistan region in the west to the kingdom of Burma (Today's Myanmar) in the east and from Kashmir to Sri Lanka. The whole of the great Indian subcontinent was captured and exhausted for every resource by the monarchy of the British Empire.
This rule ended centuries later on 15 August 1947 as the British monarchy left India while dividing the land into two as East Pakistan and West Pakistan were carved out on both sides of India. This division was mostly done on the basis of religion and it resulted in deadly massacres. Therefore, the night of 15 August 1947 is remembered as the thunderstorm before the cyclone as no one knew the implications of partition of India later on the history of independence day of India.
Pandit Jawarharl Nehru became the first Prime Minister of India and Rajendra Prasad served as the first President of India and both of them wrote several inspirational independence day quotes. Dr. Babasaheb Ambedkar wrote the Indian constitution when India became a republic nation on 26 January 1950. Indian revolution saw many great freedom fighters like Mahatma Gandhi, Sardar Vallabhbhai Patel, Lala Lajpat Rai, Bal Gangadhar Tilak, Rani Lakshmi bai, Begum Hazrat Mahal, Dadabhai Naoroji, Sarojini Naidu, Savitri Bai Phule, Mahatma Jyotiba Phule, Annie Besant, Aruna Asaf Ali and so many more.
HAR GHAR TIRANGA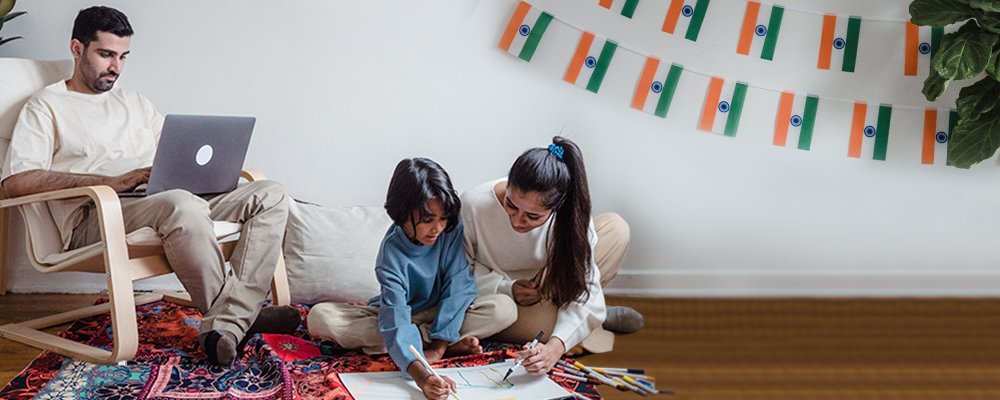 iBhejo.com is glad to be part of this 75th independence day celebration for you. We are bringing forward Azaadi Sale with best discounted deals along with additional discount coupon codes and free shipping all over India where this 15 August 2022 will be har ghar tiranga. iBhejo is aiming to provide all Indians an exclusive access to global products like never before and like nowhere else. India is about discovering opportunities and achieving new heights. iBhejo on the same lines is about venturing into western space and owning your desirable item. After so much of the Indian revolution, Indians want to go global and one such way is to claim the global market and experience the fruits of everything. After a long battle, India is at a stage where we Indians now can even buy goods from abroad and make ourselves more comfortable. iBhejo Azaadi Sale is about celebrating 75th Independence day and chanting proudly with Har Ghar Tiranga amongst several other independence day quotes as you will go on shopping global products from a India exclusive marketplace i.e. your very own iBhejo.
SHOP INDIAN FLAG ONLINE ON iBHEJO.COM
As iBhejo offers free delivery across India for all its imported products which are made in the USA. Premium quality Indian flag and other decorative materials are made available here in India at best rates with additional discount coupon codes. Indians love to shop electronics, beauty care, dietary supplements and hair care products online and especially if they are imported from the United States. Brands like Doctors Best, Maybelline New York, Aveeno, Vera Protein, Loreal Paris, Adidas, Nike, Yeti and so on can be shopped online in India on iBhejo. All products are genuine and authentic as they are sold at an all-inclusive price. Shop the best of the Indian flag online only here with attractive decor and premium finishing.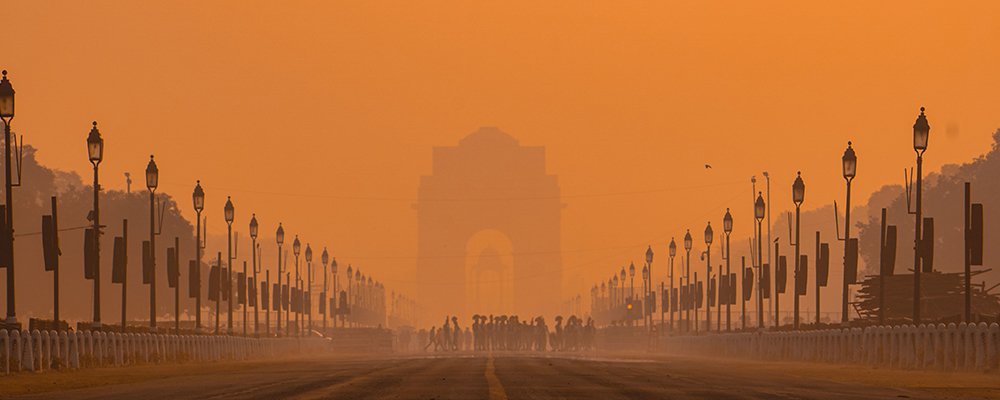 FAQs
WHY DO WE CELEBRATE INDEPENDENCE DAY IN INDIA?
Indians celebrate Independence day on 15 August 2022 in order to honour the moment when India became completely free from Colonial rule of the British Empire. It was a fight that took place for centuries and lastly, India gained freedom after the Indian revolution had so many martyrs in the history of independence day of India. 
WHICH INDEPENDENCE DAY SONG IS MORE FAMOUS?
Ae Mere Watan Ke Logo & Aisa Des Hai Mera by Lata Mangeshkar, Yeh Jo Des Hai Tera & Maa Tujhe Salaam by A. R. Rahman are some of the most famous songs that are always played as an Independence day song for Independence day celebration in schools on August 15.
WHICH IS THE MOST POPULAR SPEECH ON INDEPENDENCE DAY?
Pandit Jawaharlal Nehru on the 15 August 1947 is known as the most popular speech on Independence day. The start of his speech, 'at the strike of midnight' has become a phenomenal beginning of any speech ever in the history of India's independence day of India.
SHOP IMPORTED QUALITY GOODS ON IBHEJO.COM AZAADI SALE
Shop the best of American quality goods from bestselling western brands on this Azaadi Sale at iBhejo with free shipping all over India along with discounted deals on electronics, beauty, home decor, baby food, lifestyle, monsoon collection, and so much more. Shop online imported goods on iBhejo as well as shop online American made products with no extra custom charges and earn rewards points for your next purchase. Lets celebrate 75th Independence day of India with Har Ghar Tiranga and with shopping online your favorite western brands on iBhejo.com